4G Rural Broadband
Zcomax 4G/LTE products have thousands of installed bases in the North America, South East Asia, and other areas, too. Our outdoor 4G/LTE routers offer superior RF and antenna engineering for maximum LTE performance, as well as comprehensive networking solutions that are ready to be utilized in a diversity of revenue generating applications and vertical markets.
Both our hardware and software are specially designed for carrier-grade operations. The cores of our 3G/4G/LTE CPE technologies include:
Cellular & RF integration, dual APN, and dedicated bearer
Signal enhancement to provide industrial-grade M2M cellular
Contain all Gigabit interfaces, including Giga LAN and Giga WAN
Full VPN security, including IPSEC, PPTP, L2TP, GRE,
Device security considerations, including Full firewall security including SPI firewall, NAT, VLAN, Filtering, Access Control List, etc.
The Outdoor 4G/LTE Router designed for the Harshest Environments and Desert-like Area
Zcomax outdoor 4G/LTE router, 4700 series, can work reliably in freezing or extremely hot environments for extensive times. Our outdoor 4G/LTE router is covered with industrial-grade IP67 hardware casing, embedded with the waterproof capability that can sustain in the harshest outdoor weather without cracking the housing. We design the router with the dual antenna that can extend the signals to remote and rural areas. Our outdoor 4G/LTE router series is readily ideal for delivering optimal network connectivity to all oil and mining site, as well as serving as the reliable communication backbones for critical communication applications.
Instant POS Setup for Credit Card Access in Remote Area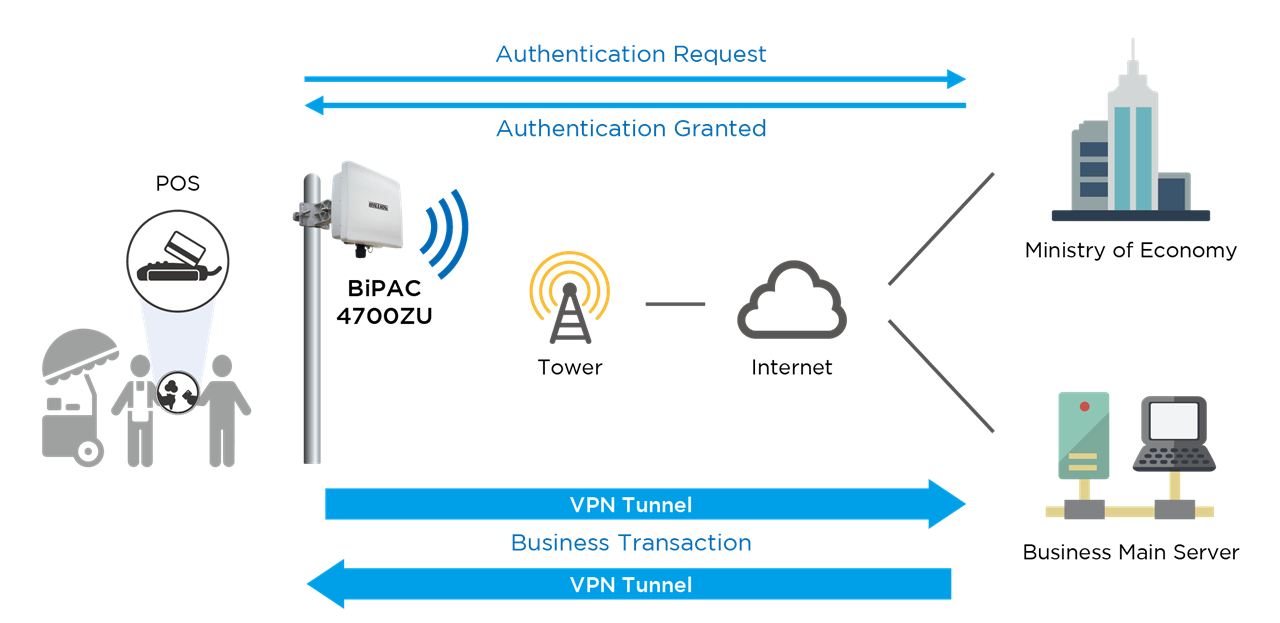 Billion 4G LTE outdoor router series can provide an excellent 4G LTE connection enabling instant POS setup for credit card access in remote areas where there is no fixed line Internet connection. Because of different local legislations, the POS system needs to set up an Internet connection with government financial department (Ministry of Finance). BiPAC 4700 series can establish VPN connection with the central business unit where the main company server is located to process the transaction seamlessly. Instant Outdoor Hotspot Setup with 4G LTE Fixed Wireless Outdoor WiFi router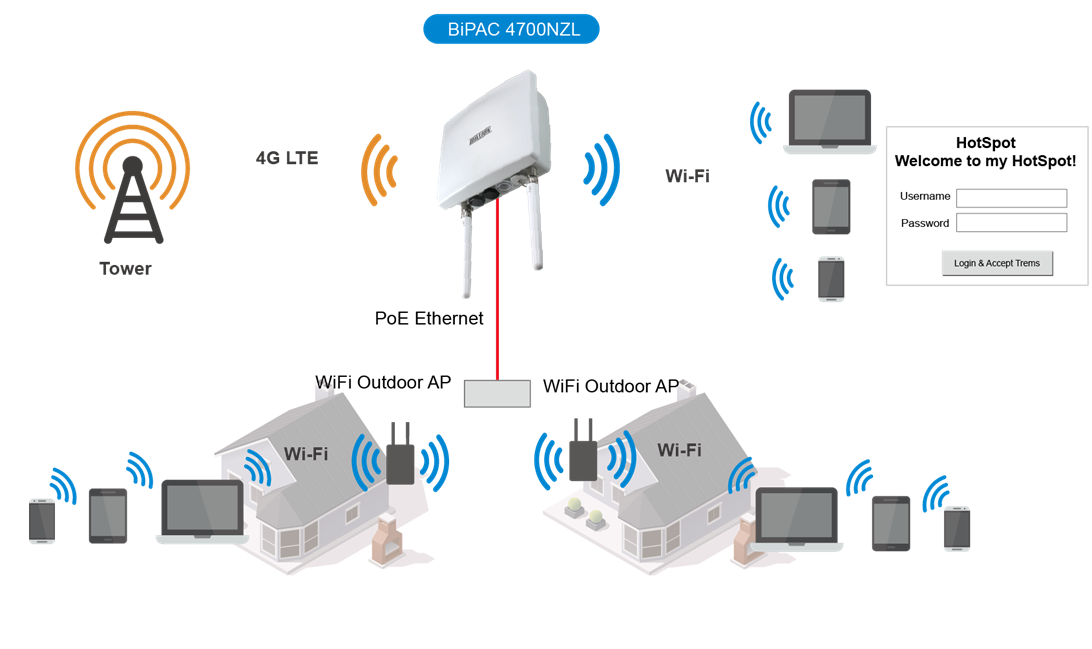 BiPAC 4700 series integrate the latest generation of LTE fixed wireless networks and the WiFi wireless technology providing an instant high-performance 4G LTE connectivity to outside harsh environments Wi-Fi Hotspot applications.
Requirements:
1. Provide mobile WiFi internet access in extreme outdoor environment
2. The box is water-proofed and hard solid without cracking
3. Unique antenna design to extend the 4G LTE signal service coverage & bandwidth
4. Support authentication and advertisement with WiFi hotspot customizable captive portal design
5. Instant setup quickly4G LTE Outdoor Fixed Wireless with WiFi for Internet Access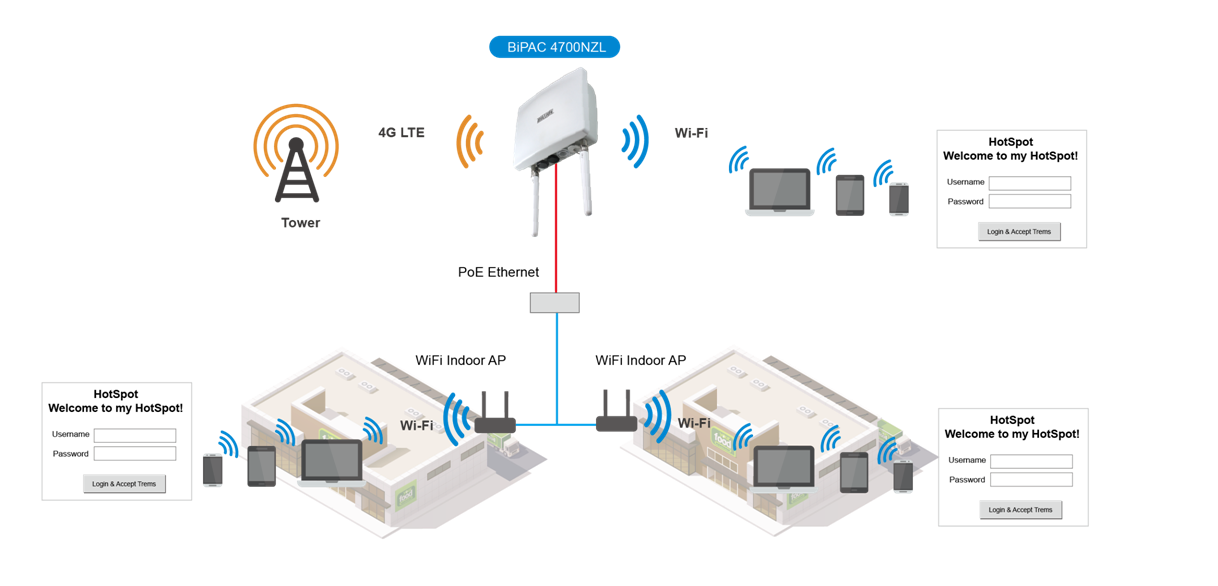 BiPAC 4700 series provides high-performance 4G LTE connectivity for outside harsh environments Wi-Fi fixed wireless applications.
Requirements:
Provide Fixed Wireless WiFi internet access in extreme outdoor environment
The box is water-proofed and hard solid without cracking
Unique antenna design to extend the 4G LTE signal service coverage & bandwidth
Connect with other Outdoor WiFi client to provide internet access for users of those WiFi cleints
Only 2 left in stock

Only 1 left in stock

Only 1 left in stock