Ligowave Infinity MESH AP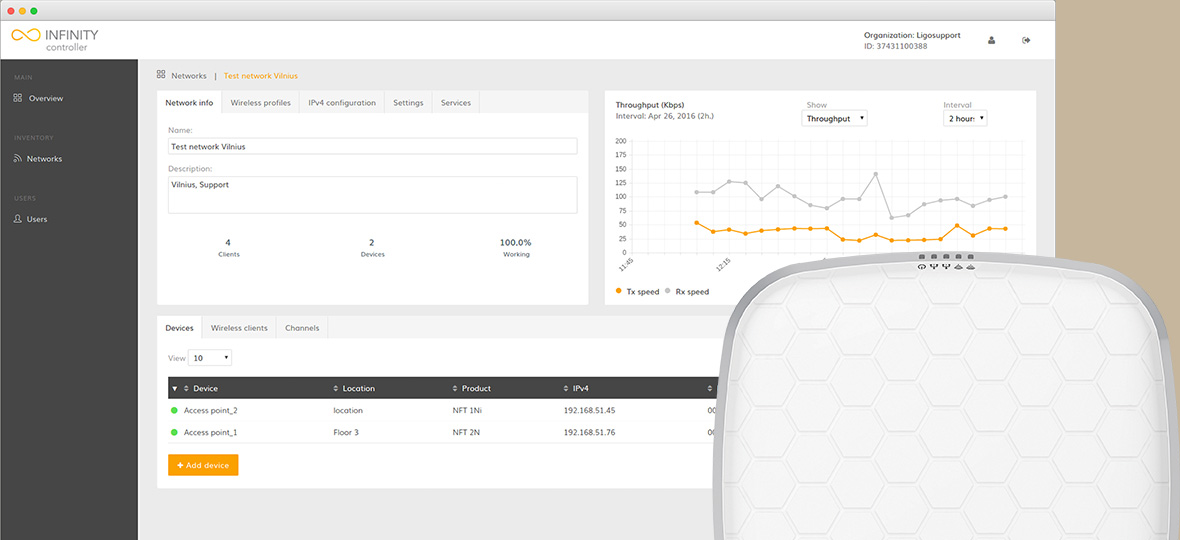 The simplicity of use
Standalone | Integrated controller | External controller
Standalone
Infinity series access points are configured individually via the web interface. This traditional scenario is suitable for small networks that do not require centralized management and maintenance. Infinity OS is a highly functional and easy to use operating system. This powerful and flexible operating system ensures flawless operation of LigoWave hardware devices and effortless setup for those deploying the networks.
Responsive HTML 5 based GUI
128 concurrent clients per radio
8 virtual networks (SSID+VLAN) per radio interface
IPv6 support

Integrated Controller
Each Infinity series access point supports controller-less architecture, which is ideal for small to medium size deployments (up to 50 access points). This functionality is available with firmware NFT v7.54. An Integrated setup wizard allows quick and easy setup. Master access point works as a controller and shares the configuration with managed access points at the same time collecting statistical information. This unique architecture allows secure, scalable, cost-effective and simple deployments in any industry.
Centralized configuration
Centralized monitoring and management
Easy setup and maintenance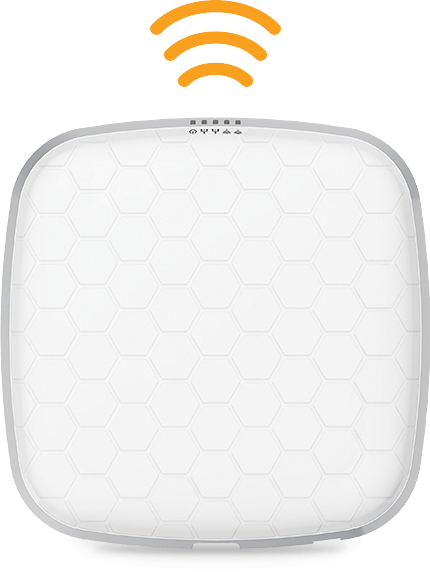 How It works
Ideal for small to medium networks with up to 50 devices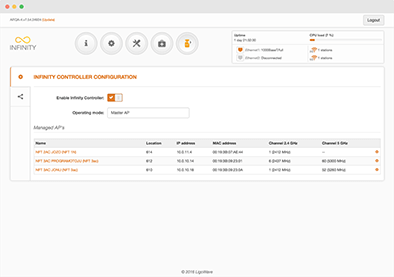 One user interface to control and manage the network
devices are configured and managed via web interface of "Master AP".


Easy to scale and install
An integrated controller has a wizard which guides through all the necessary steps to configure the device. Once the "Master AP" is running all "Managed APs" are discovered and centrally configured (Note: by default all Infinity devices are running in "Managed AP" operating mode). This simplifies the expansion and replacement by supporting plug and play device installation.
External Controller
Infinity controller is a software platform to configure and manage Wi-Fi networks based on LigoWave devices. It is available for two platforms Linux or VM VirtualBox (Supporting Windows, Mac and Linux operating systems) and Cloud based version too. Software image is free and available in downloads section. The controller supports unlimited amount of devices (taking into account sufficient hardware resources are available) and is ideal for large networks that can be remotely located across the country and even different continents.
Centralized configuration
Centralized monitoring and management
Easy setup and maintenance
Scalability
Security
Cloud based Infinity cloud controller trial account is free and supports up to 50 Infinity series wireless access points.
Register Your Cloud Account now
Paid version with multiple subscription plans is coming soon.
HOW IT WORKS
Easy Mesh ( External Controller only)
Terminology:
Mesh AP – an AP that has a wired connection to the network and which provides wireless access to end users as well to Node APs.
Node AP – an AP that is connected wirelessly to another node AP or to a Mesh AP and which provides wireless access to end users and can serve as a backhaul connection to other Node APs.
Backhaul – a wireless connection between APs.
Access – a wireless connection to end users.
This feature is supported by the External NFT controller only. Any NFT AP (including LigoDLB with NFT firmware) can be used in this type of network. A single-radio AP creates a backhaul and an access at the same time. A dual-radio AP uses 5GHz for access and backhaul or just for backhaul (configurable), while a 2.4GHz radio is for access only.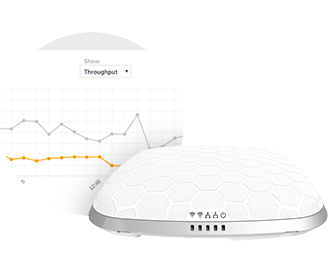 Easy to deploy and manage
Centralized configuration, auto-provisioning, historical statistical data collection and plug and play device replacement simplifies expansion and supervision of networks.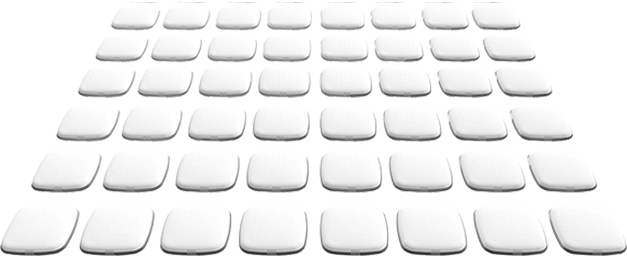 Scale to thousands
Infinity controller allows managing unlimited number of devices (taking into account there is sufficient hardware resources on the server side). Multiple remote networks can be controlled via the same system.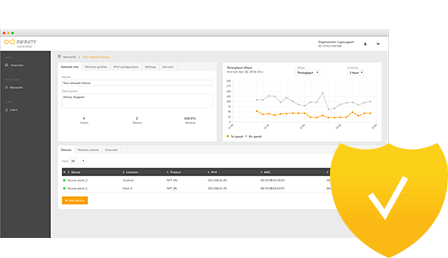 Highly secure
Multiple user roles and encrypted communication channel ensures protection of your network from external threats.
Model comparison
| | NFT 1Ni | NFT 1N | NFT 1N(af) | NFT 2AC | NFT 3AC | NFT 2AC outdoor |
| --- | --- | --- | --- | --- | --- | --- |
| Use Environment | Indoor | Indoor | Indoor | Indoor | Indoor | Outdoor |
| 2.4GHz data rate | 300 Mbps (2x2) - 802.11N | 300 Mbps (2x2) - 802.11N | 300 Mbps (2x2) - 802.11N | 300 Mbps (2x2) - 802.11N | 450 Mbps (3x3) - 802.11N | 300 Mbps (2x2) - 802.11N |
| 5GHz data rate | N/A | N/A | N/A | 867 Mbps (2x2) - 802.11AC | 1300 Mbps (3x3) - 802.11AC | 867 Mbps (2x2) - 802.11AC |
| Antenna gain | 3 dBi | 3 dBi | 3 dBi | 3 dBi (2.4 and 5 GHz) | 5 dBi (2.4 and 5 GHz) | N - connectors for external antenna |
| Security radio | No | No | No | No | Yes | No |
| ETH port | 2 x 100 Base-T | 3 x 100 Base-T | 3 x 100 Base-T | 3 x 1000 Base-T | 2 x 1000 Base-T | 1 x 1000 Base-T |
| PoE type | 24V passive PoE | 24V passive PoE | 802.3af | 802.3af/at | 802.3af/at | 802.3af/at |
| Mount type | Wall | Wall/ceiling/pole | Wall/ceiling/pole | Wall/ceiling/pole | Wall/ceiling/pole | Wall/pole |


Downloads