Basic - GIS-R2 - 30 USERS
30 concurrent users with core functionality: plug and play wizard, programmable login page, authentication, disclaimer editor, access code generation, content filtering, bandwidth control, basic firewall, usage and billing reports, facebook™ Login, URL filter, MAC filter, configuration backup/restore and access code API.
SPECS
WAN (Internet) RJ-45 10/100
LAN1-LAN4 (firewall) RJ-45 10/100
Concurrent clients: 30*
Basic 3-Step Setup Guide
1. Connect your GIS-R2 to your current router using the Ethernet cable provided and power up.

2. Now, connect your computer, tablet or phone to the GIS-R2 either via Ethernet or wirelessly using an access point.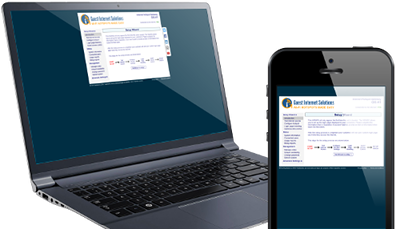 3. Visit http://aplogin.com/ and follow the step-by-step wizard.

It's as simple as that.
REGISTER YOUR TRADE ACCOUNT HERE FOR BETTER PRICING.

The GIS-R2 Hotspot Gateway plugs into your current router and provides controlled access to the internet for up to 30 guests. Works with all internet connected devices!
Your guests are shown a , promoting your brand and giving information about your business.
The login page will allow your guests access to the internet using the following methods:
Facebook login
Login with a pre-generated login code
Automatic billing for internet access
Agree to terms and conditions
Open Access
SPECS & FEATURES
Specs:
Ethernet:
WAN: RJ-45 10/100
LAN1-LAN4: RJ-45 10/100

Dimensions and power
Enclosure:13cm x 10cm x 3cm
5v 110v/220v supply 25W

WARRANTY:
1 year
Features:Peer to Peer Blocking
Works with any Access Point
Fully customizable login page
Access Code login
Set bandwitdh limits per user
Cloud Management
Data limits
Multi WAN - Load balancing and failover
Robust firewall
Facebook login
Email and data collection
Content filtering
Overview:The GIS-R2 Hotspot Gateway allows you to safely and securely share your internet connection with your guests.

You can also capture user data, promote your brand and offer promotions to your guests.

With a range of different login options, you can choose how you want to provide internet access.

Set time, data and bandwidth limits per user from any device connected to your network.
Related products
Customers who bought this product also bought
Customers who viewed this product bought