M500-W – World-Wide Bands Dual Sim, Dual LTE Modem 4G Router and WiFi Hotspot with optional GPS and Cloud Management.

The M500 Worldwide edition is a dual module router that is integrated with 2 different LTE modules.
Between them, the 2 modules cover around 90% of the LTE bands worldwide. This means that wherever you are in the world you should be able to connect with at least one of the modules.
Ideal for worldwide rapid deployment applications, as a WiFi solution for yachts and boats sailing to multiple countries, or indeed for any traveller who needs to maximize connectivity availability worldwide in a robust and reliable form factor.
Simply insert your local SIM into LTE 1 SIM slot. If there is no connection use LTE 2.
A full list of supported LTE bands for each module is listed below.
LTE 1 bands supported:
B1, B2, B3, B4, B5, B7, B12, B13, B17, B20, B25, B26, B29, B30, B41
LTE 2 bands supported:
B1, B3, B5, B7, B8, B18, B19, B21, B28, B38, B39, B40, B41
M500-W can still be used to operate 2 mobile networks concurrently, either in failover or load-balancing model, and will also revert to 3G signal where 4G LTE is unavailable.
The router can run off a standard 12v, 24v or 48v battery, but is also supplied with a UK power plug for extra flexibility. The supplied LTE antennas give excellent indoor performance, but they are detachable should you wish to attach a 3rd party antenna solution, such as an in-vehicle roof mounted antenna, or even a directional antenna to boost distance and signal strength.
The on-board captive portal also supports Hotspot functionality should you wish to create a controlled WiFi network. Simple T&Cs sign on, re-direct landing page, bandwidth control by session and data limit alerts are just some of the many features that you can pre-configure to control WiFi access.
For multiple or fleet deployments we can also offer a comprehensive management platform (CMS) for diagnostics and monitoring that also supports GPS functionality
For more information on the M500-W and compatible antennas you can contact us at sales@zcomax.co.uk or call 020 8982 8200.
Captive Portal 4G & WiFi Marketing, Monetization and Analytics
M500 BEC Cloud Management
BEC Cloud NMS Overview

Key Features
High-performance and reliability - easy to manage and access
Offers 4G/LTE broadband connectivity (3G Fallback is optional)
Multi-WAN interfaces: Dual SIMs/ Dual Modules and EWAN for network resilience and reliable connectivity
Supports two SIM cards, and each SIM card is associated with one of the two 4G/LTE radios/modules
Network expandability - load balance and reliable connectivity - auto-failover/failback.
Embedded GNSS option for real-time asset tracking and location data-based applications
Local and Remote management via Web GUI, SNMP or CWMP(TR-069)
Compact and unobtrusive design
Small form factor with multiple mounting options, easily installed by a single person
Ignition power control option when mounted within vehicles
Secure VPN Connections
Embedded IPSec, PPTP, L2TP, GRE and OpenVPN secure VPN connection with powerful encryption
Designed for challenging / rugged deployments
Hardened enclosure with Industrial-graded components
Designed to withstand heat, humidity and protect from shock, vibration, etc.
E-Mark (E1) certified
Ideal Solution for
Business Continuity, Logistics/Transportation and Fleet, Public Safety/FirstNet applications
Benefits
High Availability and Network Resilience
The M500 is a feature rich industrial class router coupled with robust network processing and Multi-WAN connectivity, purpose built for network resilience and business continuity. The platform support dual SIM and dual LTE radios for carrier redundancy or load balancing between carriers networks. In the event of a connectivity failure of the primary WAN interface, traffic is automatically redirected to the secondary WAN interface. The M500 will also fallback when the primary interface connection is restored. This functionality operates regardless of whether the primary connection is LTE or a wired connection such as fiber, cable or DSL. Load balancing and traffic prioritization mechanisms can be enabled to enhance failover performance and maximize bandwidth utilization for critical applications delivery.
Carrier-grade Wireless LAN
The M500 integrates a 802.11n access point supporting data rates of up to 300Mbps. Security functionality includes: WEP 64/128, WPA(PSK), WPA2(PSK), Mixed WPA/WPA2(PSK), SSID broadcast disable, Wireless MAC address filtering and SSID with Client Isolation to enhance the level of transmission security and access control over the Wireless LAN. Allowing for Wi-Fi Hotspot functionality anywhere there is cellular signal. The captive portal enables highly secure connectivity with multiple authentication options and extensive controls for access and bandwidth management.
Application Diagram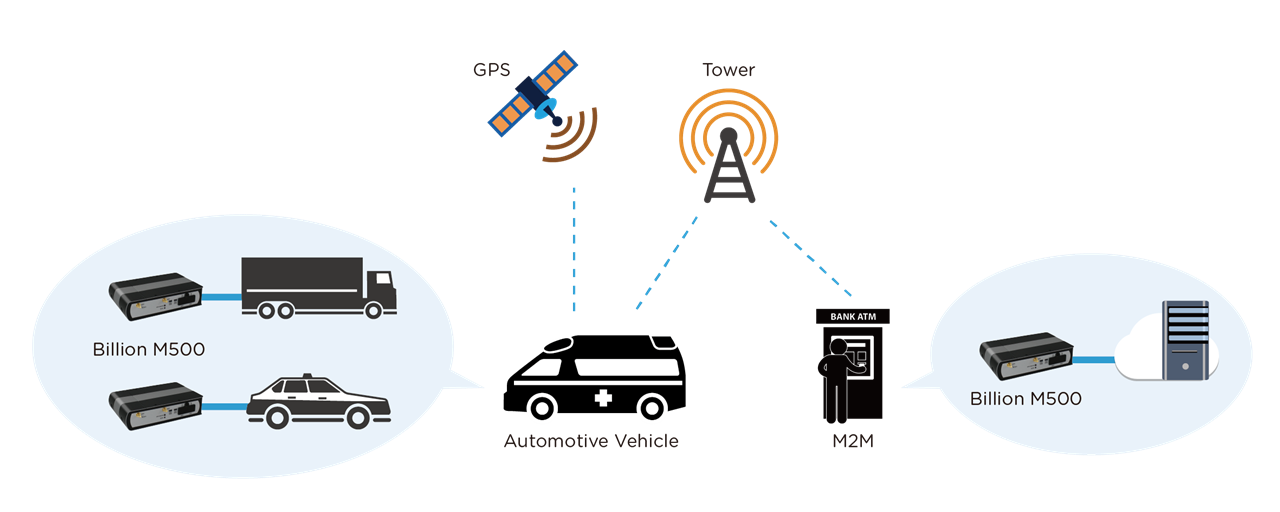 Public Safety
LTE can enhance emergency responders operations by delivering high-data-rate services to wide coverage areas. Such communication links can support digital imaging, video streaming, voice, large data download, and other capabilities which cannot be supported over the traditional narrowband network. LTE Wireless broadband networks allow mission-critical information to be exchanged in real-time, anytime, anywhere. Database lookups, dispatch messaging, mug shots, video/ surveillance feeds, and broadcasting can now be achieved within seconds instead of hours.
Billion M500 provides dual LTE modules, enable in-vehicle WiFi, real-time imaging streaming, and medical data transferring with instant failover capability. Ambulance staff is allowed to examine patient media records, plan driving routes, and communicate with emergency room and fleet dispatchers to allocate the available vehicle resource to resolve emergency scenarios. The dual-Radio supports multi-channel video recording and streaming with always-on, extensive broadband feasibility. Thus, Billion M500 can transmit the images of a patient's injuries from the ambulance to the emergency room for treatment advice and minimize the gaps of medical care upon arrival at hospitals.
Benefits:
Support digital imaging, video streaming, voice, and large data download.
Enhance emergency responders operations by delivering high-data-rate services to full coverage areas.
Allow mission-critical information to be exchanged in real-time, anytime, anywhere.
Achieve database lookups, dispatch messaging, mug shots, video/surveillance feeds, and broadcasting within seconds
Support rapid boot up and wake-on-call functions.
Reduce delays and enhance driving safety through the integration of tire pressure monitoring system and forwarded collision warning.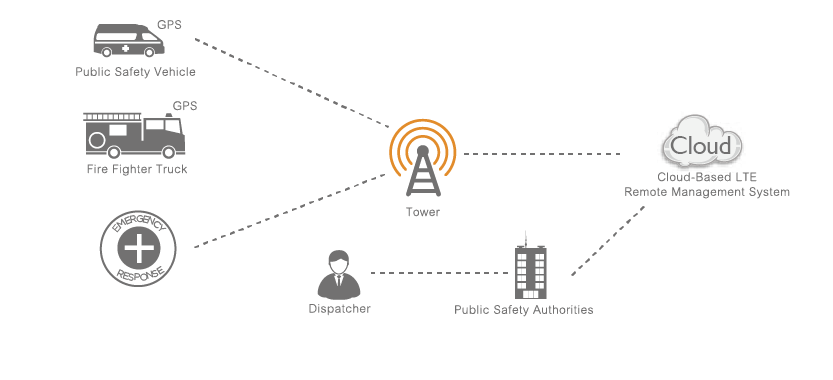 Smart Bus
Bus companies look for reliable Smart Bus solutions that can provide free or pay-for-use WiFi Hotspot service in the moving vehicles and the delivery of driver and vehicle status back to the centralized dispatch center for real-time management. Billion M500 provides an excellent in-vehicle networking CPE equipped with dual radio and SIM, assisting system integrators in designing an always-on wireless architecture with the advancement of onboard mobile service and HotSpot captive portal. Supporting 10-56V DC power input designed for handling transient voltage and GPS/GLONASS for location tracking, Billion M500 is an industrial-grade, in-vehicle computing router that as passed the European E-Mark (E1) certification with authentication login to enable a Smart Bus experience.
Benefits:
Dual LTE interfaces enable reliable Internet access for in-vehicle broadband applications
WiFi hotspot with captive portal - Facebook login, Data Capture, WIFi Marketing
Ignition sensing controls M500 power on and off, and avoids draining the vehicle battery
Industrial Solutions
When compared to existing 2G/3G M2M cellular devices, the most notable benefit of 4G/LTE is the higher performance and capacity which result in significantly faster download and upload data rates. While faster data rates are great for backbone network communication and remote surveillance industrial applications, the significantly lower latency (time delay) of LTE is more important for M2M industrial applications that rely on real-time information, such as controlling sensitive equipment, industrial alarms, and tracking management.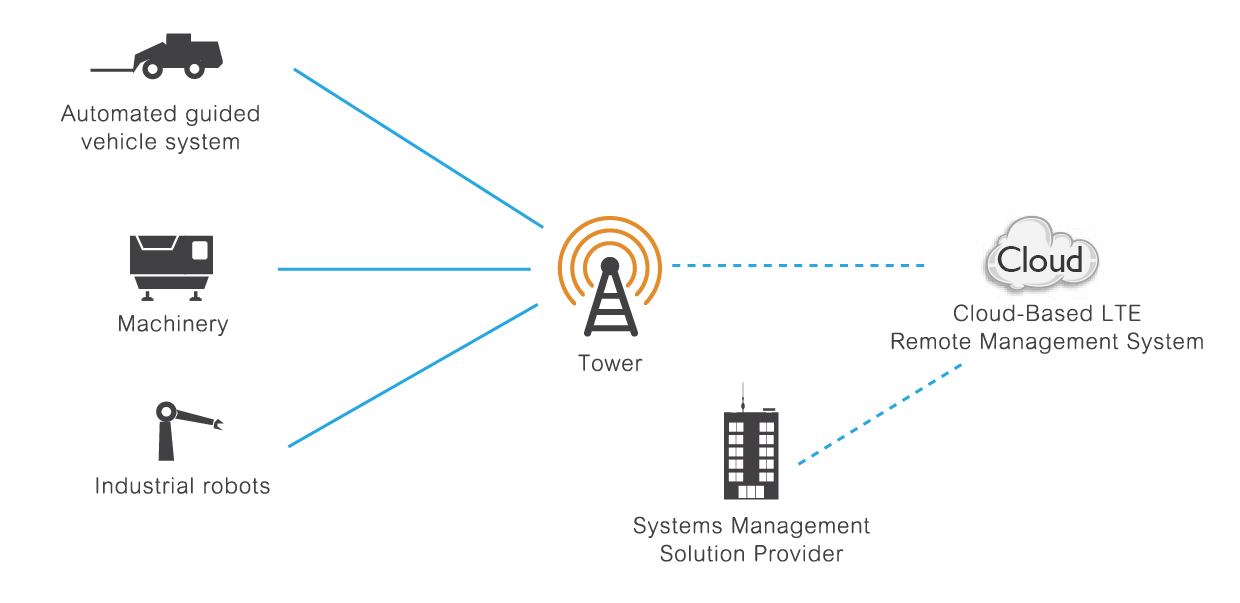 Financial Solutions for Retail, Point of Sales (PoS), Kiosks, and Automated Teller Machines (ATM)
The Financial Services industry is shifting in large part due to the benefits of the latest generation of mobile wireless technologies, 4G LTE. The most significant benefits of 4G LTE are higher bandwidth, lower latency and improved spectrum efficiency. These benefits not only allow for fast electronic transactions they enable new business models such as targeted marketing, location-based offers, interactive services and an overall improved customer experience.
Billion M500 provides a higher bandwidth, lower latency, and improved spectrum efficiency. These advantages not only allow for fast electronic transactions, but they also enable new business models such as targeted marketing, location-based offers, interactive services and an overall improved customer experience. Billion M100 is helping retailers meet consumer expectations and become more competitive by providing wireless technology solutions that quickly integrate with Point-of-Sale (PoS) Systems, Automated Teller Machines (ATMs), Multi-purpose Kiosks and Vending Machines.
Benefits:
Either primary connection or backup connection when wired connections are unavailable or non-existent.
Fixed wireless communications platform enabling real-time 4G Cellular data connectivity for existing serial devices & Ethernet network.
Reliable and cost-effective alternative solution for business continuity.
Always-online 4G/LTE Bridge / IP-Pass through Mode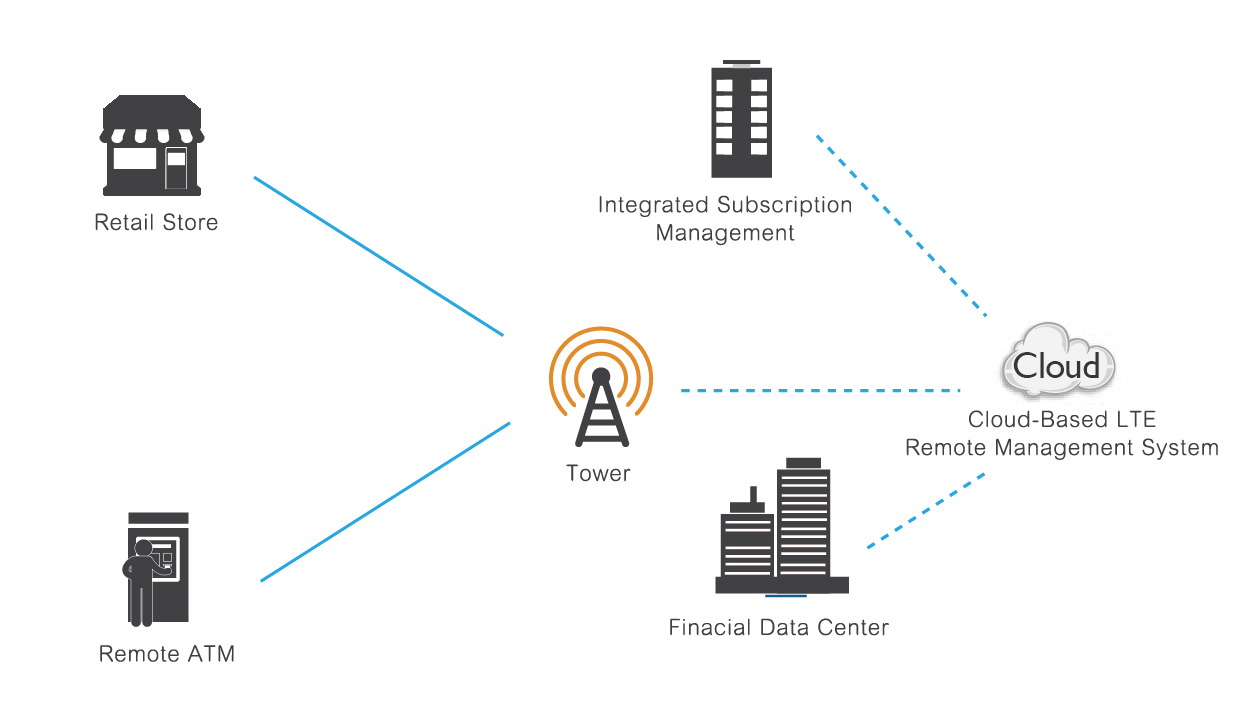 Related products

Customers who bought this product also bought