In-Vehicle 4G/LTE WiFi Solution
BUS WiFi SYSTEMS FOR EVERY SIZE VEHICLE
From taxis, minibuses and buses through to the largest touring coaches, Zcomax Bus WiFi technology provides full-featured and powerful WiFi connectivity for any size passenger vehicle.
Transportation and Fleet

Real-time updates and remote management

First Responder
Remote database access. Secure and efficient

Metro Motorcoach
Real-time video surveillance and digital Signage

Passenger WiFi
Wi-Fi Certified with Hotspot and Captive Portal Functionality


Unique Mobile Connectivity Challenge
Solution: True-Seamless Failover
Multi Carrier Multi Radio for Concurrent Connectivity
Automatic Failover/Fallback and Load Balancing
Equipment Monitoring, Maintenance and Updates challenge

Solution: Cloud-based Remote Management Platform
Can enable software/firmware updates, configurations, security patches, and maintenance of devices

Wiring and Electrical Issues

Solution: Intelligent Ignition Sensing
Low Voltage Power Protection with Automatic On and Time-delay OFF
Extreme Temperature challenge

Solution: Extrem Operating Temperature with BEC ColdStart
Extended temperature range and flexible input voltage selection
Terrain challenge

Solution: Easy Installation and Rugged Compact Design
MIL-STD-810G Certified
Designed to handle the roughest of terrains
Solution
Zcomax M500 offers OBD and on-line GPS tracking system indicating the geographic locations of scattered vehicles, providing ultra downlink and uplink rate that serve as 4G/LTE Wi-Fi Hotspot for passengers to surf the Internet and enjoy instant video streaming on all personal electronic devices. Supporting 4G/LTE real-time streaming for video communications, surveillance, and monitoring, Zcomax M500 broadens wireless coverage to rough terrains and rural areas and persists unsurpassed connectivity without interruptions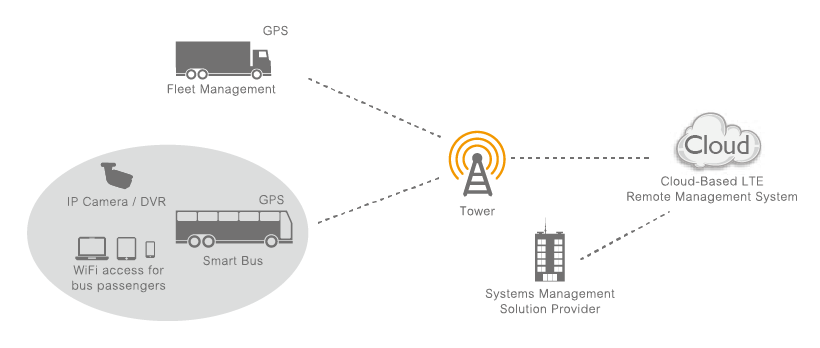 Zcomax M2M Product features an excellent Smart Bus communication backbone:
• Dual LTE interfaces enable reliable Internet access for in-vehicle broadband applications
• WiFi hotspot with captive portal offers wireless access in vehicle for passengers
• Ignition sensing controls M500 power on and off and avoids draining the car battery
• Multi-WAN interfaces: Dual SIM/Dual Radio and EWAN for network resilience and reliable connectivity
• Embedded GPS option for real-time asset tracking and location data-based applications
• Local and Remote Management via Web GUI, SNMP or TR-069
• Hardened enclosure for Industrial-graded components
• Withstand heat, humidity and protect from shock, vibration, etc.
Ransnet In-Vehicle hotspot solution
Case Studies
| | | | | |
| --- | --- | --- | --- | --- |
| | | | | |

Bestsellers